Oak
Natural and Light Stained Oak
This San Francisco home showcases natural oak in all its beauty, bringing together different variations of natural oak throughout the floors, cabinets, and ceiling. The prominent grain pattern and orange and yellow shades of the hardwood make the space feel calm, cozy, and warm.
The course texture of these dark-stained oak cabinets adds a unique twist to a fairly contemporary kitchen.
Maple
Natural and Light-Stained Maple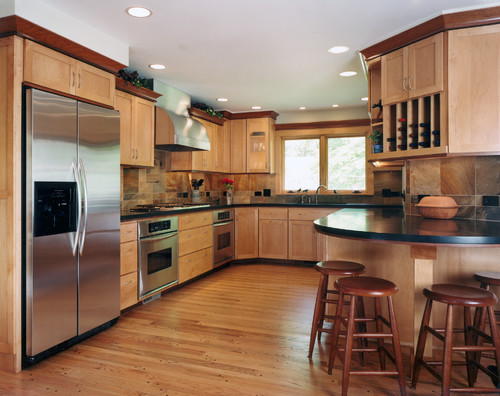 The
light color
and
subtle grain pattern
of these natural oak cabinets give this kitchen a peaceful and luxurious feel.
Dark Stained Maple
Go from classic to contemporary with just a little change in staining! Maple's
soft grain pattern
and
smooth surface
makes the wood type a great option for any design aesthetic!
Cherry
Natural and Light Stained Cherry
Luxurious natural cherry cabinets offer a sleek, elegant and modern feel.
Dark Stained Cherry
Dark-stained cherry looks high-end and pairs well with grey counter tops!
Thanks for reading! Let us know which one is your favorite in the comments below!